Mixed Use
Atlanta, GA
This 26.3 acre subject property encompasses fee simple and leasehold interests in property surrounding the former Turner Field which is now Georgia State Stadium. The ownership team including Carter, in partnership with Oakwood Development and Healey Weatherholtz Properties, is developing a mixed use neighborhood including corporate offices, apartments, hotel, specialty and neighborhood retail.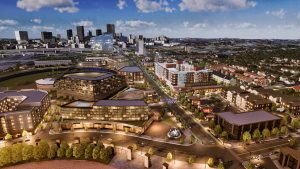 The borrower's plan is to establish a vibrant, walkable, commercial corridor in the Summerhill neighborhood of Atlanta. The current design as seen in the rendering includes 820 multi-family units, 125 townhomes, 1,000,000 SF office, 145,000 SF retail, and a 150-key flag hotel. The borrower is also developing the adjacent property along Georgia Avenue including revitalizing existing historic buildings.
The Atlanta Braves move from Turner Field and Atlanta's Summerhill neighborhood to Cobb County was initially considered by many people a loss for the City of Atlanta. One of the challenges was what could be done with purpose and value with a 68-acre site including a vacant stadium and gigantic parking lots?
Georgia State University had a natural prospective interest in the 68-acre site given its proximity to downtown Atlanta. GSU is Georgia's largest university with 53,000 students. According to the 2017 Best Colleges edition of U.S. News & World Report magazine, GSU ranked the #4 most innovative university, #14 best in undergraduate teaching, and #14 in top "Up and Coming" universities. As GSU climbed the ladder among university rankings it was shifting from primarily a commuter's school to more of a traditional live-on-campus university. Several new dorms have been built close to the center of campus, although the campus lacked certain sports amenities of a Division 1 school.
While GSU had certain needs, it was not interested or suited to develop the entire 68-acre site. In addition to converting Turner Field into GSU's football stadium, a new baseball stadium will be constructed on the site. It was important to GSU that the remainder of the site also has an excellent development vision. Hence, GSU, Carter and the city of Atlanta worked together to foster a good outcome. The plan for the site also includes a 700 bed privately developed student housing product.
In another positive development, the Summerhill Bus Rapid Transit project is an effort led by MARTA in coordination with Atlanta, GSU and Carter.  It would provide 'train-like' bus service using exclusive and existing right-of way on a 9.4 mile corridor along Juniper/Courtland and Piedmont Avenue, connecting points between the Arts Center in midtown to and through Summerhill. One-way travel time is projected at 16 minutes.
Founded in 1958 Carter is one of the country's leading real estate investment, development and advisory firms with mixed-use, multi-family, office, student housing and education/institutional projects under construction throughout the U.S. Oakwood Development was founded by Kelly King in 2014 to provide community-minded real estate and development services. Quill Healey and Eric Weatherholtz co-founded HWP in 2006 sharing experience in repositioning underperforming buildings, with specialties in retail and mixed-use.